Kansas voters say 'no' to constitutional amendment concerning abortion rights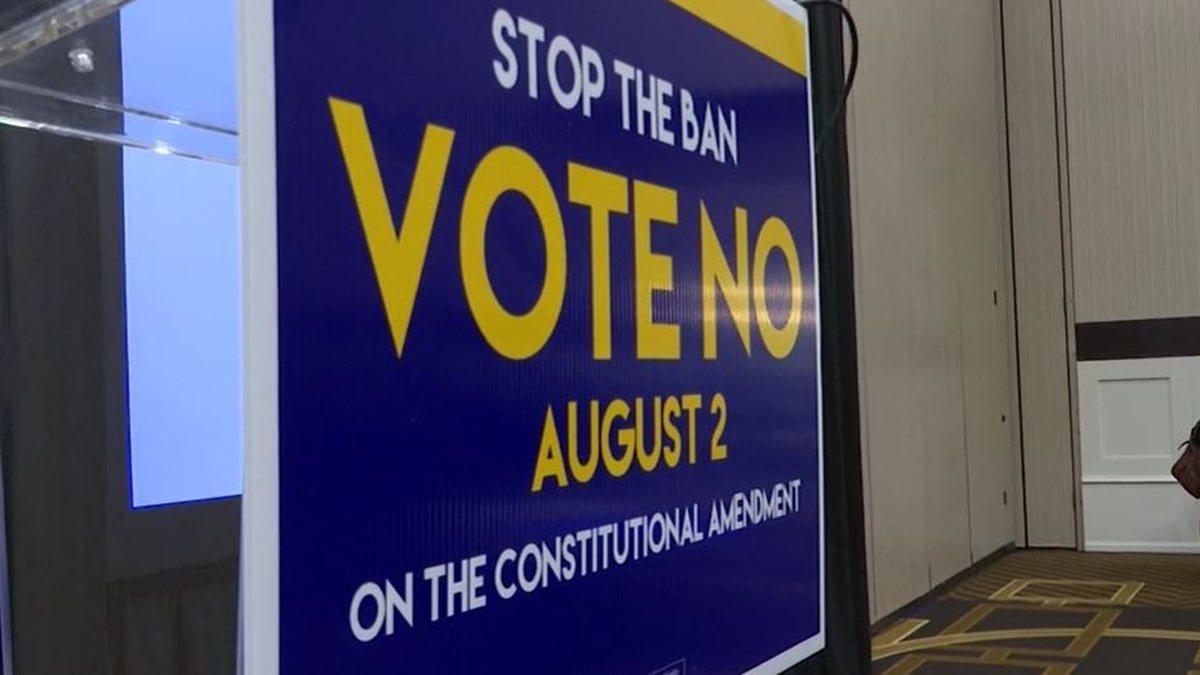 Published: Aug. 2, 2022 at 5:39 PM CDT
OVERLAND PARK Kan. (KWCH) - Update: Enough Kansas voters made their voices heard for national news outlets to declare that the constitutional amendment concerning abortion rights did not pass. The "no" vote means there will be no amendment and the state's constitution protecting abortion rights will remain as it is today.
In response to the decision, Planned Parenthood Great Plains released the following statement on the win it said, "demonstrates once again that voters across the country do not want politicians interfering in their healthcare decisions."
Tonight, in a definitive statement of support for reproductive freedom in the state, Kansas voters rejected a ballot measure that would have eliminated any right to abortion in the state's constitution and opened the door to dangerous abortion bans. The vote, which comes just over a month after the U.S. Supreme Court revoked federal abortion rights, demonstrates once again that voters across the country do not want politicians interfering in their health care decisions.
The victory is a result of a long campaign to motivate voters to protect bodily autonomy at the ballot box. Kansans for Constitutional Freedom — a broad coalition of reproductive rights and justice organizations, civil liberties groups, faith leaders, and youth — reached hundreds of thousands of voters over hours of canvassing, phone banking, and community engagement. Planned Parenthood Great Plains Votes (PPGP Votes) and Planned Parenthood Action Fund (PPACT) were key stakeholders in the coalition, contributing nearly $2 million — including $1.15 mil from PPACT — throughout the course of the campaign and mobilizing volunteers across the country to get involved with Kansans for Constitutional Freedom and engage with Kansas voters.
Voters were galvanized not only by the Supreme Court's decision to overturn Roe v. Wade, but by the devastation seen in neighboring states where access was already limited or eliminated entirely. In neighboring Oklahoma, abortion has been banned since May — forcing thousands of patients to leave their home state for care. Kansas is one of the only states in the region that safeguards access to legal abortion and following today's vote will remain a critical access point.
In support of the Value Them Both Amendment, U.S. Senator Roger Marshall shared a message discussing his views on the matter as an OBGYN and encouraging supporters to move forward "with faith and hope." Marshall's full statement:
"Words could never express the sadness and emotion myself and many Kansans are feeling after the Value Them Both amendment was not adopted. This is an enormous blow to efforts to protect the sanctity of life in Kansas.
"Too many times I've seen sadness and hurt, without an explanation why — this is one of those moments. While I don't have an answer, I do know that God works all things for good for those who trust him.
"I want to thank everybody in the pro-life community who worked so hard to get this amendment passed. Tonight, we must still go to bed with faith and hope, for tomorrow we must be as dedicated to the sanctity of life, and to the fight to protect the lives of moms and unborn babies.
"Each of us will have to pray and look in our hearts to see what's next. However, we must not rest as there is much work to be done to support moms who are contemplating abortion, and decide instead for life. Let us all reach out and give them all the help and hope we can.
"As an OBGYN who delivered more than 5,000 babies and fought each day of my more than 25 year career to protect moms and babies, I remain as dedicated as ever to doing everything in my power as a U.S. Senator to protect life at all costs."
In support of Tuesday's vote, President Joe Biden also issued a statement, in part saying, "Voters in Kanas turned out in record numbers to reject extreme efforts to amend the state constitution to take away a woman's right to choose and open the door for a state-wide ban."
"This vote makes clear what we know: the majority of Americans agree that women should have access to abortion and should have the right to make their own health care decisions," Biden said. "Congress should listen to the will of the American people and restore protections of Roe as federal law. While that is the only way to secure a woman's right to choose, my Administration will continue to take meaningful action to protect women's access to reproductive health care. We will continue to act where we can to protect women's reproductive rights and access to care. And, the American people must continue to use their voices to protect the right to women's health care, including abortion."
As Kansas voters continue to make their voices heard on a constitutional amendment concerning abortion on the Aug. 2 Kansas primary ballot, both sides of the issue expressed optimism. Specifically, voters are deciding whether the right to an abortion is protected by the Kansas constitution.
A "yes" vote affirms that the right to an abortion will no longer be guaranteed by the state's constitution and legislators will be able to pass laws regulating abortion.
A "no" vote means nothing will change in the state. There will be no amendment and the state's constitution will remain as it is today.
Eyewitness News on Tuesday spoke with organizers behind "Vote Yes" and "Vote No" campaigns. Ashley All, spokeswoman for Kansans Constitutional Freedom (Vote No) said she's cautiously optimistic headed into Tuesday night. But she said the past year or so of this campaign has come with major challenges. Among the biggest challenges, she sad, has been fighting misinformation and just general confusion about the constitutional amendment question. The other big challenge: mobilizing people wo do not regularly vote in primary midterm elections to get into the voting booth Tuesday.
"Something of this magnitude where we're taking the rights of Kansas women away should be put on a general election ballot not a primary ballot," All said. "But we are working under the situation we were given. The legislature put this on the primary ballot for a reason and we've been really working hard to make sure that all voters, whether they're Republican, Democrat or unaffiliated voters, understand that they can and should vote today."
Despite the challenges, Kansans for Constitutional Freedom raised upward of $7.4 million and has gained support from national organizations, politicians and advocates.
The "vote yes" campaign, "Value Them Both, holds a slight edge going into Tuesday night, the latest polling showed. The constitutional amendment has been in the works for abortion rights opponents since 2019. That was when the Kansas Supreme Court overturned a law banning the dilation and evacuation procedure and made abortion a protected right in the state constitution. Abortion rights opponents say the amendment is needed to protect the state's abortion laws and gives state lawmakers more ability to regulate abortion. "
Value Them Both," the main group for the "vote yes" effort has raised $4.7 million this year. The Catholic Dioceses in Wichita and Kansas City are among the main supporters.
Value Them Both Deputy Communications Director Mackenzie Haddix said the group has taken to streets to spread their message.
"We have taken our message door to door, person to person, church t church, all across the state in every single county, and we really do believe that our message will be resonated at the ballot box," Haddix said.
"Value Them Both" said depending on the outcome of results, if the amendment question passes, one of their fist priorities would be to restore two abortion-related laws that have been struck down in Kansas court.
Copyright 2022 KWCH. All rights reserved.