LIVE updates from winter storm impacting Kansas. Storm Team 12 issued a Weather Alert Day for Friday through Saturday morning. Before it's over, some areas could see more than six inches of snow.
SATURDAY 10:00 a.m. update:
Light snow and flurries are confined to parts of northern and central Kansas, while heavier snow bands are moving over the Flint Hills and SE-Kansas. Radar continues to show a diminishing trend in the snow and flurries. Snowfall totals between 6 and 9 inches have been reported with a few locations reporting 9" (Scott Co) -10.5" (near 3rd & Kansas in Garden City). No accumulating snowfall expected for Wichita. Roads are slushy as temperatures hover between 28-34 degrees at this hour.
SATURDAY 8:00 a.m. update:
Snow continues this morning across most of Kansas. Accumulations overnight range from 3-7" across parts of western and northern Kansas.
Light snow will continue through about 10 a.m. before diminishing to flurries. Only a light dusting of snow is likely in Wichita, with 1" or less expected in Sedgwick Co.
Additional accumulations of 1-3" are possible across northern Kansas. Once the snow moves out, expect cloudy, breezy and cold weather the rest of the day. Winds diminish tonight however clouds hang around through Sunday.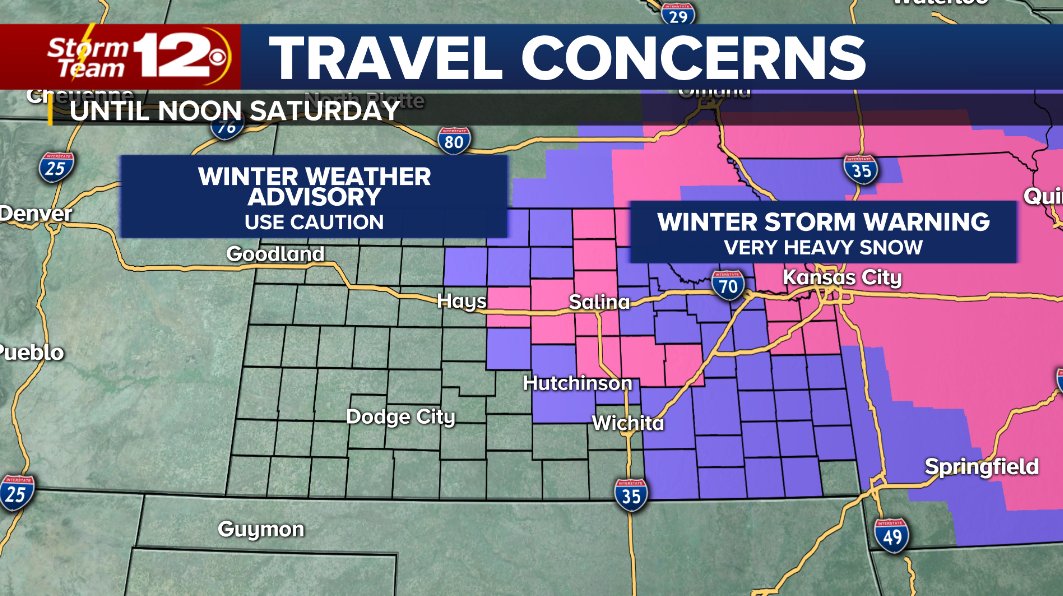 SATURDAY 3:00 a.m. update:
The National Weather Service has upgraded the Winter Weather Advisory across parts of central and northern Kansas to a Winter Storm Warning, where as much as 6" (possibly more) of snowfall is expected through midday Saturday.
Snow will be falling across KC Metro and Chiefs Kingdom for morning and midday tailgating, however should taper off to light snow and flurries by the start of the game.
Track Road Conditions: Kansas Road Conditions Website
Late Friday night update, Jan. 11, 2019
Through Friday night into early Saturday morning, conditions are only expected to worsen as a winter storm continues to impact Kansas, dumping snow for most of the state and rain in parts of south central to southeast Kansas.
However, that rain will gradually turn into snow. By Saturday morning, up to two inches is expected in the Wichita with about three inches possible in Hutchinson.
Throughout Friday afternoon into evening, several crashes and slide-offs were reported in western and north central Kansas. By about 10 p.m. Friday, one of the highest snowfall totals was in Scott City where there are reports of about six inches.
We're still looking at the possibility of at least seven inches in a stretch of northeast Kansas including Topeka and Kansas City. For those crossing the state line to get to Arrowhead Stadium for Saturday afternoon's Chiefs game the trip to the game will present more of a challenge than the trip home, at least from a weather standpoint.
-----
9:30 p.m.
About two to three inches of snow was reported in the Garden city area. In central Kansas, there are snow reports in Saline County, Ellsworth County, McPherson County and Marion County. The snowfall will continue through the night.
In south central Kansas, roads are mostly wet as we're seeing more snow instead of rain. Showers continue to push north and east. There is still a good chance for snow to fall in the Wichita area, but we're not expecting to see more than about two inches by Saturday morning.
A band of west to central Kansas from about Garden City north and east to Salina could see four to seven inches of snow. The highest totals are northeast where seven to 10 inches could fall. This includes Topeka and Kansas City.
-----
9 p.m.
The Kansas Highway Patrol says weather is believed to be a contributing factor in a deadly crash involving two semis on K-156 in Ellsworth County. The KHP says this crash happened about 5:30 p.m.
------
8:30 p.m.
Storm shots from western Kansas viewers show several areas blanketed with accumulated snow that continues advancing east. As of 8:30 p.m. a light rain continued to fall in the Wichita area, soon expected to turn to snow.
Looking northeast where the heaviest snowfall totals are expected, we're keeping an eye on the Missouri side of Kansas City and Arrowhead Stadium ahead of Saturday afternoon's Chiefs playoff game.
Snow plows are on site in preparation for several inches of expected accumulation in and around the stadium. Staff is expected to stay at the stadium through the night, helping to stay ahead of the storm as best as possible so that fans are able to safely get to their seats Saturday afternoon.
Tarp currently covers the field, keeping the surface heated. There are no changes thus far associated with the stadium's parking lot opening or times for tailgating outside Arrowhead.
-----
7:20 p.m.
The winter storm moving through Kansas continues to push east as more viewers in central Kansas are reporting snow starting to accumulate. Within the past hour, McPherson is one area where rain early in the day has turned to snow.
The heaviest amounts are in the west where snow continues to fall after starting this afternoon. As of about 7 p.m., a viewer in Victoria reported about two inches of wet snow. The heaviest snowfall in the state is forecast for the northeast where more than seven inches could accumulate before the storm leaves the state Saturday.
With the forecast, we're keeping a close eye on Kansas City ahead of Saturday's Chiefs playoff game. Snow plows will be out, but fans looking forward to making the trip for the game should give themselves plenty of extra time and take it slow, especially on the Kansas Turnpike and Interstate 70.
-----
5:45 p.m.
So far, there haven't been reports of widespread crashes on Wichita-area roads, but conditions are expected to get worse Friday night. It's a different story across west and northern Kansas where snow is falling and Kansas Highway Patrol Troopers report several weather-related crashes on highways, including Interstate 70.
In the Wichita area, the Kansas Department of Transportation says it has crews on call overnight Friday into Saturday. In Wichita, the city says it will have partial crews out from about 8 p.m. until midnight and a full crew treating roads from about midnight to noon Saturday.
KHP advises drivers not to underestimate conditions as spots could be slick that don't appear to be so. If stranded on the highway or if you need help from the KHP, call *47.
-----
4:42 p.m.
Chief Meteorologist Ross Janssen says that as rain turns to snow, road conditions will becoming slick in many areas, especially after dark and early Saturday. The heaviest snow will end up along I-70 with several areas getting 4-7 inches of accumulation. Farther south, it will decrease, but most areas will still see 2-4 inches (or more), with Wichita expected to get a few inches early Saturday.
The wind in western Kansas will cause some blowing snow, but it won't be a blizzard. Gusts will be close to 20-25 mph. Lows early Saturday will be down in the upper 20s and get no warmer than the low 30s for the afternoon.
We can expect improving road conditions Saturday evening and by Sunday, the weather will be much calmer. It will still be cold with highs only in the 30s to finish off the weekend.
-----
4 p.m.
The Adjutant General's Department says the Kansas National Guard is on standby with its Stranded Motorists Assistance Response Teams.
"Kansans are urged to change or delay their travel plans in these areas until the storm moves through," says Response and Recovery Branch Director Jonathan York. "If you plan to travel, use caution and make sure your car emergency kit is stocked."
You can access winter road conditions by calling 511. You can also view road conditions at Kandrive.org/
-----
3:30 p.m.
As rain turns to snow out west, Kansas Highway Patrol Troopers are keeping a close eye on Interstate 70 where conditions are deteriorating.. KHP Trooper Tod Hileman reports slide-offs on I-70 between WaKeeney and Ellis.
The winter weather is also impacting high school basketball games, several of which were either moved up or postponed. You can find the full list of postponed games on CatchitKansas.com.
------
Meteorologist Mark Larson says rain, snow and much colder temperatures are all headed to Kansas today and Saturday so we've issued a Storm Team 12 Weather Alert with a winter storm racing through our region bringing heavy snow and difficult travel conditions to parts of Kansas.
Look for areas of rain across central and eastern Kansas and an expanding swath of snow developing for the west throughout the day Friday. Highs will top-out near 40 degrees.
Rain will change over to all snow this evening with some blowing snow expected for the western half of our state through Saturday morning. The heaviest snow will target central and western Kansas where 4 to 7 inches will be possible by midday Saturday but only an inch or two for the south-central and southeast. If you have weekend travel plans, prepare for wet and slushy roads around our region.
The snow pushes east of Kansas by Saturday afternoon but behind the storm system, it will be much colder with highs in the low to mid-30s. We'll see some sunshine Sunday but highs will stay in the mid-30s to around 40 degrees. Warmer temps will return to Kansas early next week with highs in the 40s and 50s Monday and Tuesday.
WICHITA AREA FORECAST:
Today: Rain likely. Wind: SE 10-15. High: 39.
Tonight: Rain changes to snow. Wind: SE/NE 10-15. Low: 31.
Tomorrow: Light snow early then cloudy, breezy and cold. Wind: NE/N 10-20; gusty. High: 34.
Tomorrow night: Cloudy. Wind: N 10-15. Low: 25.
Sun: High: 35 Mostly cloudy.
Mon: High: 44 Low: 24 Mostly sunny.
Tue: High: 53 Low: 30 Partly to mostly cloudy and breezy.
Wed: High: 45 Low: 28 Partly cloudy.
Thu: High: 46 Low: 26 Partly cloudy.
Fri: High: 48 Low: 32 Breezy, p.m. rain showers.